Let Her Inspire You
Shop Local
Saint Lucia has many independent shops and vendors offering locally-made products. Our Shop Local Guide lists a selection of places that we love and tells you where to find them. You'll find beautiful hand-made crafts, stunning art work, natural remedies and delicious produce in our guide. Our local retailers and businesses give our communities diversity and creativity and will give you something to love that can only be found in one place, Saint Lucia.
Happy Shopping.
If you're a local business and you'd like to be listed, please contact us at 1758 458 7101 for more information.
Cacao Sainte Lucie
Chocolates
This is a small batch local chocolate maker. Situated on the west coast, you'll find a chocolate shop and a newly opened restaurant now with cacoa infused Caribbean dishes on the menu. Chocolate-making classes are also available to book.
In-store at Belvedere, Canaries
Contact Info
758 459 4401
cacoasaintelucie@gmail.com
Canaries
Choiseul Art Gallery
Paintings, books
On a small farm in the fishing village or River Doree, Choiseul, you'll find the Choiseul Art Gallery. Crafts and souvenirs for sale are made with materials such as coconut, calabash, seeds and stone, among others. Paintings and books are created at this gallery by Hattie and her husband Leo Barnard. Palm crafts and wood carvings are also sold.
Visit the gallery in Choiseul or call to inquire
Contact Info
758 715 5740
choiseulartgallery@yahoo.com
River Doree, Choiseul
Choiseul Arts, Craft & Tourism Heritage Association (CATCH)
Straw baskets, straw mat, straw bags
Choiseul is the crafting community of Saint Lucia. Visit the Choiseul Craft Centre run by the Choiseul Arts, Craft & Tourism Heritage Association where you can buy straw products such as hats, baskets mats and bags. Pottery including mugs and vessels, wood carvings, paintings, and locally made jewellery are also sold.
Choiseul Craft Centre
Contact Info
758 584 8877
Choiseul
Christy Creations
Handcrafted & hand printed bags, jewelry
Award-winning designer Christine Samuel is behind Christy's Creations, creating one-of-a-kind handcrafted, hand-painted bags, jewellery, and clothing.
Sea Island Cotton Shop
Contact Info

Babonneau
Eudovic Art Studio
Handcrafted woodwork
Renowned artist Vincent Joseph Eudovic's art is on display and available for purchase in his studio. His son, Jallim Eudovic has followed suit and creates wooden art as well at the studio which is on display for purchase.
Eudovic Art Studio
Contact Info
758 452 2747
don.e@hotmail.co.uk
Goodlands, Castries
Island Mix
Painted homewares, keyrings and art pieces, soap, oils, wall art, food & drinks
Island Mix is an art and craft emporium featuring a wide range of local art and gifts, created by Saint Lucian artisans. Located on the waterfront in the heart of Rodney Bay there is also a relaxed waterside cafe where you can enjoy a slice of rum cake and a local juice after you've shopped. Sip and Paint classes are also available to book.
Roadside entrance is located after Big Chef Steakhouse, across from the 1st National Bank car park. We are on the edge of the water.
Contact Info
758 284 1569 | 758 584 7877
info@shopislandmix.com
Sea Grape Avenue, Rodney Bay
It's Alive Bakery & Fermentory
Vegan food and drink
This is a plant-based bakery and fermentary offering a range of vegan products such as kombucha, breads and pastries.
In-store at Bonne Terre Gap, Rodney Bay
Contact Info
758 730 3618
itsaliveslu@gmail.com
Bonne Terre Gap, Rodney Bay
Lotus Cosmetics
Natural candles and skin care products
Lotus Cosmetics started out of a desire to create a brand that focused on using natural ingredients found in Saint Lucia. Products for sale include soy wax, body scrubs, lotions and masks. Candle-making classes are also available to book.
Sea Island Cotton Shop (Baywalk Mall, Rodney Bay) Healing Foods (S&S Plaza, Bois d' Orange) Forever Charmed (JQ Mall, Rodney Bay) Call or email for private orders or wholesale
Contact Info
Shakira
758 726 2253
lotuscosmeticsslu@gmail.com
Coubaril, Castries
Lucian Child
Natural soaps, creams, beeswax and body scrubs, Hair oils, Hair grease
Lucian Child carefully selects and uses natural ingredients from plants to create natural luxurious skin and hair care products. All are handmade from natural resources that would otherwise go to waste. Having started out as a hobby, founder Marvin Malon Joseph now produces 18 different soaps, body scrubs, creams, oils and teas to buy.
Table set up at William Peter Boulevard (Mon-Fri), Castries The Black Amigo, Baywalk Mall, Gros Islet Craft Market, Castries
Contact Info
Marlon Joseph
758 717 8638 | 758 718 2838

booth in the Castries craft Market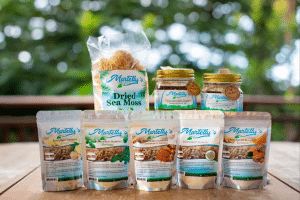 Martelly's Ocean Gardens
Seamoss-based face & body products
Saint Lucian sea moss is one of the best in the Caribbean thanks to its nutritional values. Head to Martelly's Ocean Gardens for seamoss-based skincare products including face and body scrubs and face masks.
Massy Stores Suzie's Variety (Bois d'Orange) CPJ Supermarket (Cul de Sac) Glace Supermarket (Marisule) Allain's Supermarket
Contact Info
758 720 4654 | 758 723 5028

Vieux Fort
Melting Pot West Indian Art Studio
Wood Carvings, paintings (wood, canvas & fabric)
"This quaint, colourful art studio will give you all the small isalnd feels. Situated on the hillside of the fishing village of Anse La-Raye, this studio focuses on wood carvings and straw craft. There are several pieces on display outside the shop, but be sure to go in as you may just be treated to watching the artist at work. "
In-studio or call to order, Ti Kaye Resort & Spa and Adaline Art Cafe
Contact Info
Winston Fevrier
758 488 8620
meltingpotstlucia@yahoo.com | winstonfevrier@yahoo.com
Au Pose, Anse La Raye
Mitchel's Moss Mixes
Healthy Seamoss Products and Plantain Flour
Part of the new generation of local foodpreneurs, this is a small family business that specialise in seamoss based drinks. Seamoss is a sea vegetable with amazing health properties. You can also buy plantain flour at Mitchel's, which is gluten-free and a great replacement for white flour.
Peter & Company Distributors; Greens Wholesale; Glace Supermarket
Contact Info

Michel Francois
758 712 1365
Maboya Valley, Dennery
Mount Kailash Rejuvenation Centre
Natural medicines - Cleansers, fertility products, male wellness products
This Rejuvenation centre offers natural medicines and retreats. Owned and operated by acclaimed herbalist the Honorable Priest Kailash Leonce, this mountain retreat has become the escape of international reggae stars and world class athletes alike.
On-site at Mount Kailash Rejuvenation Centre in Marc, Bexon
Contact Info
758 722 3660e
blessedlove@mountkailashslu.com
Marc, Bexon
Plas Kassav Inc
Cassava bread
A family-run roadside bakery in Canaries. Try the freshly baked organic bread cakes made from cassava. Flavours include cherry, ginger, cinnamon, cocoa and pineapple among others.
In-store at Anse La Verdure, Canaries, Massy Stores
Contact Info
Marina Henry
758 459 4050/ 724 3351
758 724 3351

Canaries
Poetry Kisses
Handmade wearable art
A delightful selection of handmade wearable art which includes jewellery and accessories made with local and natural materials such as shells, seeds and sea glass.
Rissy Kouture- House of Caribbean Fashion-(Reduit, Gros Islet) & Memwa De Sent Lisi- (Harbour Club Hotel, Gros Islet)
Contact Info
Jennifer St Louis
758 715 2628
poetrykisses@gmail.com
Castries
Savon Sent Lisi
Handcrafted Bar Soaps & Beauty Products
Luxury soap products, oils and lotions made by hand in Saint Lucia. Beautifully packaged soaps are the perfect souvenir gift with scents including seamoss with grapefruit, citrus, lemongrass, green tea and lemon, honey and almond.
Sea Island Cotton Shop Hotel gift shops: Ladera, Sandals, Harbour Club Call or email to order
Contact Info
758 724 7655
info@savonsentlisi.com
Cap Estate, Gros Islet
She Naturals
Hair and skin care, natural handmade cosmetics from local herbs, oils and plants
At Saint Lucia's first all-natural hair salon, find a wide variety of effective natural hair products here such as Glory Cedar Shampoo, Honey Ginger Lemon Deep Conditioner, Shea Aloe Butter Hair Moisturizer and Flaxseed Curl Pudding among others.
Beauty Max (Castries, Rodney Bay and Vieux-Fort) Diamond Girl (Castries, Rodney Bay and Vieux-Fort) International Supermarket (Castries, next to Access Clothing store) She Naturals Salon (Chisel Street, Castries)
Contact Info
Abegail Sandy
758 716 4532
shenaturalscaribbean@gmail.com
Chisel Street, Castries
Shirley's Creations
Christmas Decorations and Souvenirs
Hewanorra International Airport, Harbor Club Hotel, Sea Island Cotton Shop
Shirley is well-known in art circles on the island. She creates products from the most intricate of handcrafted Christmas trees to colourful floral arrangements, papercraft, fish scale dolls and magnets. Her much sought after range of Creole Angels make the perfect decoration for Christmas.
Contact Info
758 458 4155
758 285 4897

Castries
Listwa
Paintings, books, candles, chocolates, Saint Lucia flags, ornaments, chirtmas decorations, t-shirts, wide range of assorted gifts
Listwa means story in Creole. Founded in 2017, Listwa was set up out of the desire to support and promote emerging artists. Choose from a stunning collection of prints, paintings and home deco.
UVF Departure Lounge
Contact Info
Beverly Skerrit
486 9479
758 453 6759
listwa.art@gmail.com
Vieux Fort
Caribbean Blue Naturals
Natural skin products
The first product, the natural insect repellent, was developed by the Naturopathic Doctor husband and wife team. Now, natural suncreens, insect repellents, body scrubs and body soaps are all manufactured and sold by this local company.
In-store at JQ Mall, Rodney Bay Massy Supermarkets
Contact Info
758 452 8176
758 720 2714
sales@caribbeanbluenaturals.com
Gros Islet
Caribic Design Co. Ltd
Handmade ceramic products
Caribic Design specialises in hand-made and hand-painted original ceramic souvenirs, using both imported white and local red clays and upcycled clothing. They specialise in making everyday use items beautiful - look out for the signature fruit or fish-shaped salt & pepper sets.
Contact Info
758 452 4346
758 715 1070
urmiep@gmail.com
Sunny Acres
Ethany's Creative Design
Handmade jewelry and customized stainless steel products.
Handmade jewellery with semi-precious crystals, customized stainless steel bracelets, keyrings and pocket mirrors
2nd floor, JQ Rodney Bay Mall
Contact Info
758 724 4595
ethanydesigns@gmail.com
Rodney Bay
Ms St. Rose Creole Delights
Jams, cakes, juice, guava cheese, fudge, tamarind balls, jellies
Bocage, Castries